You are reading the second from the series step-by-step tutorials that can guide you to build a network infrastructure for your home voice lab. The tutorial explains how to install VMware Workstation 10 on Debian Linux and installation Windows 7 on a VMware virtual machine. Afterwards Cisco IP Communicator - CIPC will be installed on Windows.
Note:  Debian Wheezy Linux installation is shown here.
1.1 VMware Workstation Installation on Debian Linux
Unlike VMware player that is released as freeware, VMware Workstation is a paid product. However we are going to use in our home voice lab as it offers features that cannot be found in Vmware player.
a) Assign execute privileges to VMware Workstation installer
$ chmod +x VMware-Workstation-Full-10.0.1-1379776.i386
As VMware Workstation will be installed on x86-32 CPU,  the 32 bit installer must be used.
b) Start VMware Workstation installer
$ sudo ./VMware-Workstation-Full-10.0.1-1379776.i386
Note: You have to enter a valid license key during installation process.
By default three network interfaces vmnet0 vmnet1 and vmnet8 are created during VMware installation. In contrast with VMware player, VMware Workstation allows to increase the number of vmnet interfaces. However these three network interfaces match our NIC requirement as we are going to deploy three virtual machines totally.
1.2 Windows 7 Installation on VMware Workstation
Start VMware Workstation and configure following.
$ sudo /usr/bin/vmware
Create a New Virtual Machine
Select Typical (recommended) Virtual Machine Configuration
Install operating system from ISO image
Select path to Windows 7 install DVD ISO image
Enter Windows product key or skip this option
Enter Virtual machine name
Navigate to the directory where you want to keep VM files
Set maximum Virtual machine size to 20 GB
Store virtual disk as a single file
Select Customize hardware

- Edit Memory -> Assign 1024 MB RAM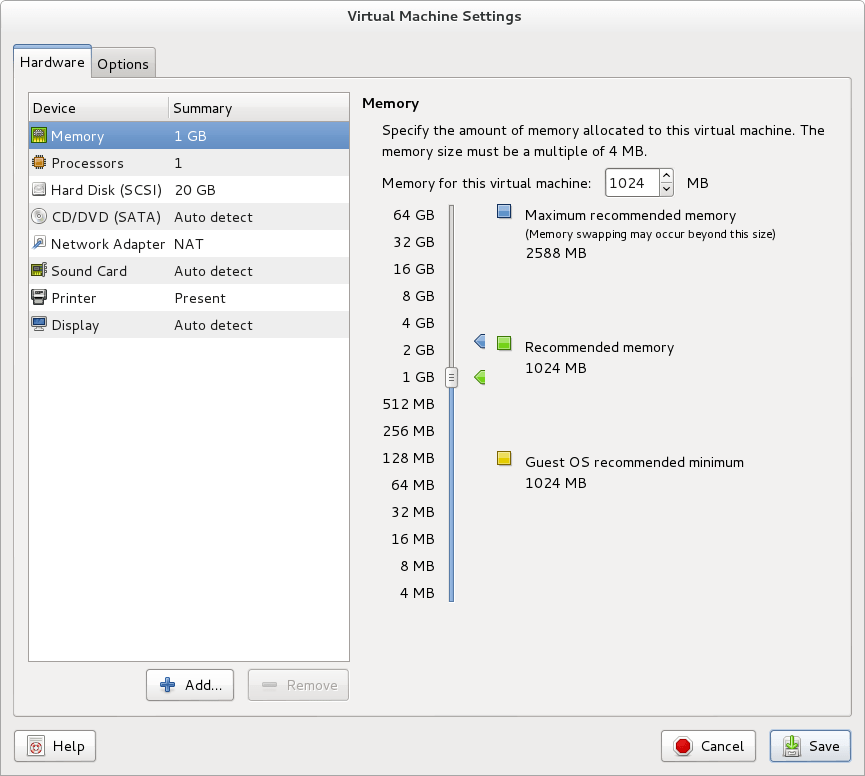 Picture 1: Virtual Machine Settings
Once the installation finished disable Windows firewall.
1.3 Cisco IP Communicator Installation
Insert USB stick to the USB slot of the host computer. VMware should automatically mount USB stick and make it available for use in Windows. Right click on installer and select Run as administrator. Once installation is finished, restart of the virtual machine is needed.
If Cisco IP Communicator is complaining about the missing sound card during installation or during startup, you must install a virtual sound card first.
Automatically start Cisco IP Communicator after Windows startup.
a) Display hidden directories and files in Windows 7
The following tutorial explains how to configure Windows to show hidden files and directories.
b) Create shortcut to Cisco IP Communicator file
Navigate to the directory C:\Program Files\Cisco Systems\Cisco IP Communicator\. Right click communicatork9.exe and select an option Create shortcut. Click Yes button and shortcut will be placed to the Desktop.
c) Place shortcut to Startup menu
Navigate to the directory C:\Users\your_username\AppData\Roaming\Microsoft\Windows\Start Menu\Programs\Startup and drag Cisco IP Communicator shortcut from the desktop to the directory. After the next Windows startup Cisco IP Communicator will be started automatically.
Reference
http://www.blindhog.net/install-cisco-ip-communicator-on-win7-in-vmware/
https://supportforums.cisco.com/thread/301222