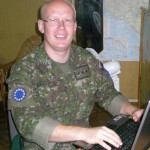 My name is Radovan Brezula and you are reading my personal blog. By way of introduction, let me tell you few words about me and my blog. I work as a professional soldier of the Slovak Armed Forces. I've been a Linux enthusiast since 2005. That time I fell in love with Fedora Linux. My relationship with my beloved Fedora was broken in 2013 when I started using Linux Debian.
I started with my blog in September 2010, at that time as a side project of my studies for Cisco certification. As the days went by, I added tutorials about emulation of various network devices from different vendors using GNS3. In case that you are looking for articles about running devices such as Cisco CSR 1000v, Quagga, VyOS, Open vSwitch, Atista, Alcatel-Lucent and others on Linux, the blog is the right place to start reading. You will also find here information about installation of machine emulators and virtualizers such as Qemu, KVM, VirtualBox, VMware Workstation on Debian and Fedora Linux.
If you wish to get in touch with me, here is my Google+ profile and Google+ page. You can also reach me via Facebook  or send me an email to chicany@gmail.com. If you think it is reasonable to send me an encrypt message, here is my public GPG key.