In the previous tutorials I showed how to create Vyatta and LiSA qemu image. Now, it is time play a little bit with these network devices and to make simply compatibility test between Cisco 3725, Vyatta 6.1 Core and LiSA.
I created a test topology with two Vyattas, Cisco 3725 router, with NM-16SW, Cisco 7206VXR router and Linux MLS switch LiSA. I chose Linux Microcore as PC host. All topology is emulated with Dynamips and Qemu emulator and running from GNS3.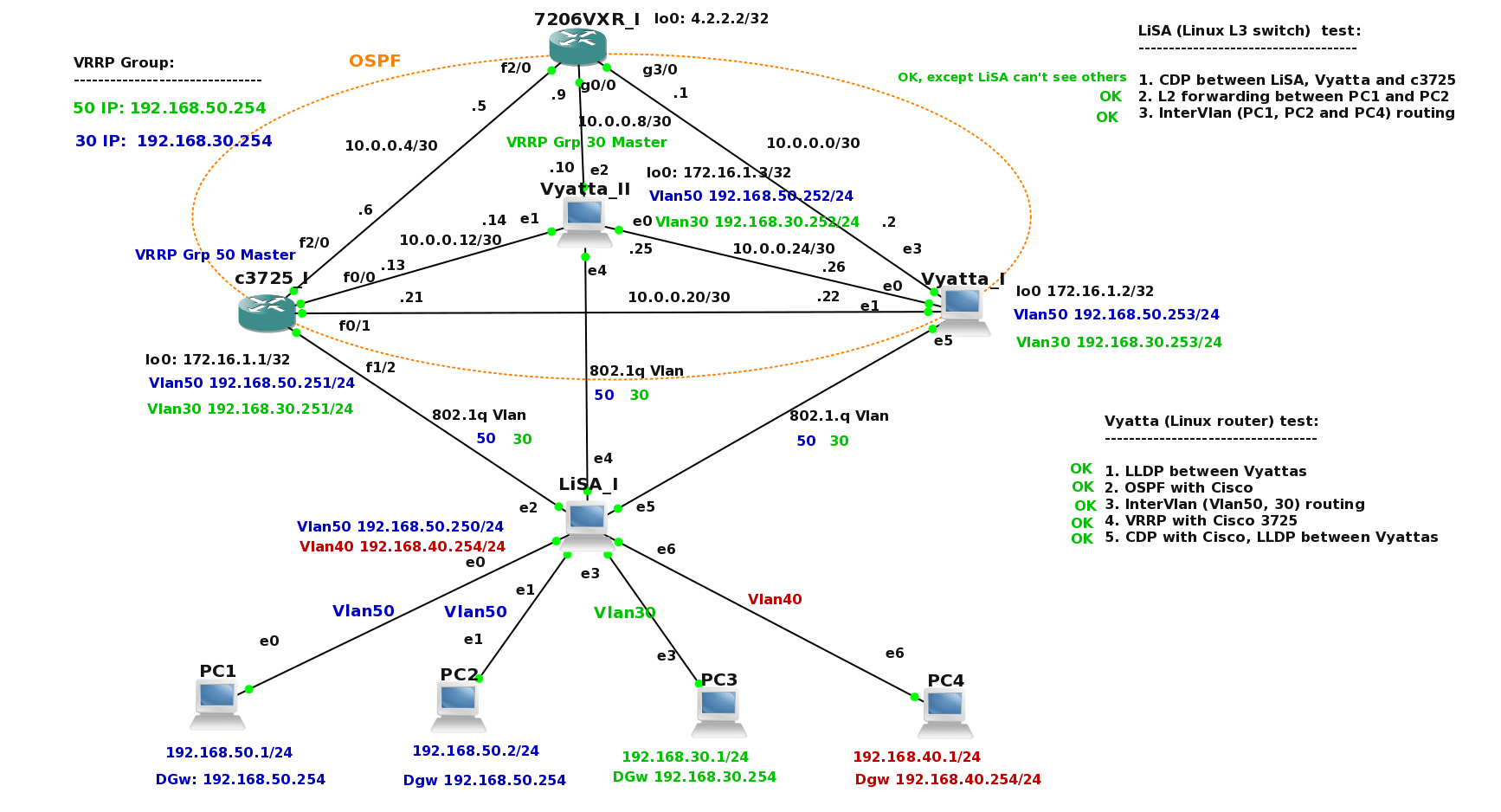 Topology is running OSPF routing protocol on Cisco and Vyatta routers. LiSA is acting as an access switch and does L2 switching. In  the fourth part LiSA was tested for intervlan  routing as well.
I separated configuration to six parts to make testing more obvious. I also created videos for each part. As more devices were added to topology, emulation was very slow at the end. Although I used Idle PC and cpulimit to decrease processor load it was still high because of video recording program. It took a long time when I wanted to use TAB for automatic filling of commands.
The part one is about  interfaces configuration for support OSPF routing protocol.
The second part contains OSPF protocol configuration on Cisco and Vyatta.  The goal was clear - to force routers in area 0 to exchange routes using OSPF routing protocol.  This basic test proves compatibility between Cisco and Vyatta but more complex and advanced test is needed to  prove full OSPF compatibility between vendors.
The third part tested L2 discovery protocols - Cisco proprietary CDP and 802.3ab LLDP . I could only test LLDP between two Vyattas because of lack LLDP protocol in Dynamips supported routers. Vyatta can do both CDP and LLDP  so I could  test CDP between Vyatta, Cisco and LiSA. Everything worked OK except LiSA  didn't show CDP neigbours.  LiSA doesn't support LLDP protocol yet.
Cisco 3725 and Vyatta showed LiSA in the output of show cdp neighbours command. I am not sure why LiSA didn't  show CDP neighbours but I guess it could be a problem in my own LiSA qemu image.
In the fourth part I setup LiSA and got Ethernet frames forwarding  between two PC hosts in same VLAN 50.  In this part you can also show how to setup permanent IP configuration of Microcore Linux.
I also showed that LiSA can do routing between VLANs - PC1 (VLAN50) and PC4 (VLAN40).
The fifth part finished LAN configuration - SVI ports, trunks, subinterfaces etc. Routing between VLANS on Vyatta was tested at the end of this part.
In the sixth part basic VRRP functionality was tested between Cisco and Vyattas. Router 3725 was MASTER with priority 254 in VLAN50 and Vyatta-II was first BACKUP with priority 100 in VLAN50. Vyatta_I was the second backup router for VLAN50 with default priority 1.
Vyatta_II was Master with priority 254 for VLAN30 and Cisco 3725 was first Backup with priority 100 in VLAN30.  Vyatta_I was acting as second BACKUP with default priority 1 in VLAN30.
Configuration files: 7206VXR, 3725, LiSA, Vyatta_I, Vyatta_II.